At first, this may be true; however, if an elderly user hasn't stretched their hamstrings in a long time, they will be tight, so stretching them will be uncomfortable and maybe even painful. Therefore, the user will resume sliding. 
A better solution would be to invest in a wheelchair that can elevate the leg rests as well as recline. The reclining function shifts the weight from the user's pelvis, across the user's whole back. The shift of the user's center of gravity is what will stop the user from sliding.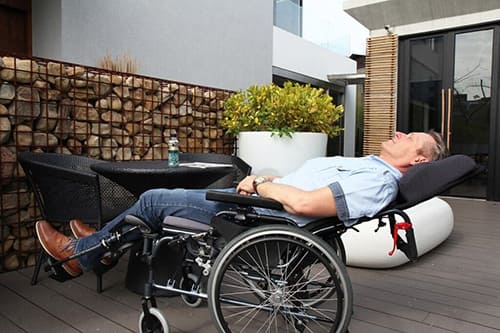 A reclining wheelchair will prevent the user from sliding down the wheelchair. Source: Karma MVP 502 reclining wheelchair. 
Myth 2 – Elevating the leg rests will reduce swelling (

edema

)
Maybe at first, however, the height of the footrest, although elevated, is still much lower than the user's heart. If the elderly user needs a wheelchair to reduce swelling, then a wheelchair with other features such as reclining and tilting is required.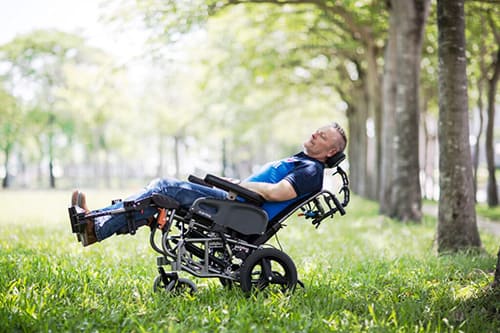 In order to reduce swelling, the user's legs need to be above the height of the user's heart. Source: Karma VIP 2 Titling and Reclining Wheelchair. 
Myth 3 – Elevating leg rests reduce the pressure on the buttocks
Lifting the legs will reduce the contact area between the thigh and seat cushion, so the pelvis is more likely to slide forward, so there is more pressure on the spine. If the goal is to reduce the likelihood of pressure sores, then a wheelchair with both reclining and tilting features is necessary. Karma's VIP2 can recline, Tilt-in-Space, and even fold to fit in the trunk of a car.
What is the correct wheelchair leg rest position?
The leg rests should be in a comfortable position where the feet can reach the footrests. When elevating the legs, it should be done in increments so as not to overstretch the elderly user's hamstrings. The best solution is to invest in a tilting and reclining wheelchair so that the user can reap the benefits of hassle-free repositioning.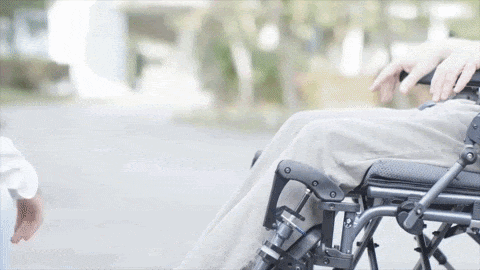 Elevating the leg rests should be comfortable for the user and not cause them any pain. Source: Karma Medical YouTube – MVP502 Reclining Wheelchair / VIP515 Tilting Wheelchair
Keep Reading