The easiest way to push a wheelchair over uneven ground to go backward. When encountering uneven ground, pushing the wheelchair forwards is not only difficult for the caregiver but it is also extremely uncomfortable for the user. If the user is elderly and their trunk is unstable, there is a risk of them falling out of the wheelchair and sustaining a secondary injury. 
The caregiver's first instinct may be to tilt the wheelchair up (similar to going up a curb) however, this is tiring for long distances and difficult for elderly caregivers. Therefore, the solution is to go backward. When the rear wheels go first, the larger surface area is able to overcome the uneven ground which makes it easier to navigate.
A pelvic belt is a necessary accessory for elderly wheelchair users as it decreases the risk of them falling out of the wheelchair. It also ensures they are seated in the correct seating position for their posture as well as prevents them from sliding.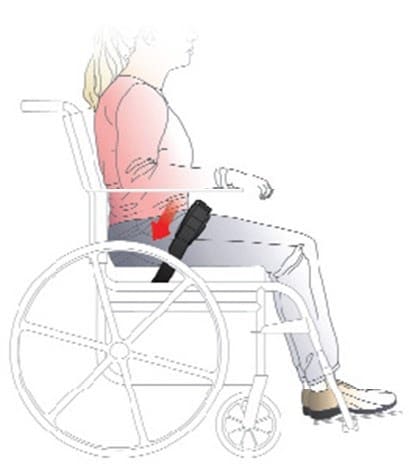 An example of a pelvic belt. Image Source: Seating Dynamics
Summary
Use the features and accessories of the wheelchair to your advantage instead of risking secondary injury to the wheelchair user or injuring to the caregiver. In the next blog post, we will talk about how to transfer elderly users who may not be able to stand or sit up, in a reclining wheelchair.
Keep Reading