Travelling itself, let alone with an elderly wheelchair user, can be stressful. The key to travelling smoothly with an elderly wheelchair user is to properly plan and prepare in advance. Allowing for extra time when you're on the move, for example, will make the trip less stressful. Choosing the right wheelchair that is appropriate for the user and travel plans will also make travelling with an elderly wheelchair user smooth sailing! 
Choosing the right wheelchair
As well as making plans well in advance, having the right wheelchair will make the journey more enjoyable not only for the user but any caregivers that are also travelling with them. KARMA has a wide range of wheelchairs to suit a wide range of elderly users, ideal for travelling!
Lightweight manual wheelchair
A lightweight manual wheelchair, such as KARMA's Ergo Lite Series, is ideal for elderly users who can walk but not for long distances. This chair will give them the option to rest in the wheelchair and still be part of the party! Ergo Lite is also ideal for elderly travelling with an elderly caregiver as it weighs less than 9KG, so it can be easily lifted and stored in the trunk​​ of a car.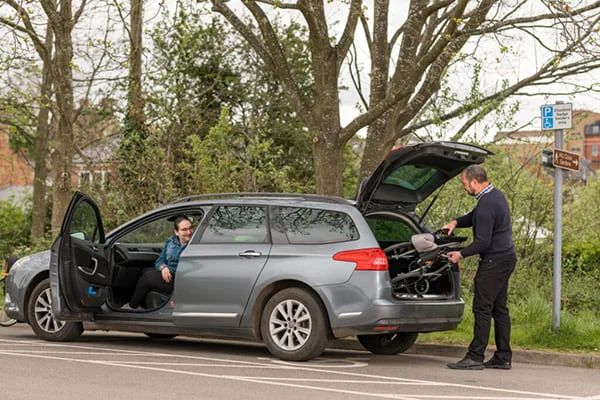 Positioning wheelchair
A positioning wheelchair has a seat that can be manually adjusted by the caregiver. Positioning wheelchairs can be reclined and/or tilted for the comfort of the user. KARMA's VIP 2 is the perfect example of a 2-in-1 positioning wheelchair that has been designed to be caregiver friendly! Not only is the VIP 2 ideal for elderly users who don't have much trunk support, but it is approved for transportation in accordance with international standard ISO 7176-19, which means it can be safely used as a seat in a vehicle. 
KARMA's VIP 515 Tilt-in-Space is the only tilting wheelchair on the market that can be compactly folded to fit in the trunk of a car. Not only is the chair ideal for elderly wheelchair users who spend a lot of time in their chair, but it's great for travelling with and for storing in tight spaces.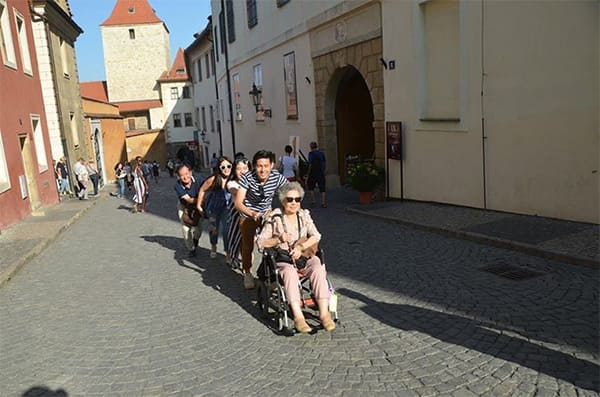 Power wheelchair
When travelling with an elderly wheelchair user, if the caregiver does not find it convenient to push the user around in a manual wheelchair, they can consider using a power wheelchair. There are many lightweight power wheelchairs available on the market, such as KARMA's eFlexx. eFlexx is a compact and foldable power wheelchair with detachable footrests and swing away armrest to safely enter and exit the wheelchair. Compatible with a wide range of accessories, eFlexx is ideal for travelling in comfort. 
Tips for choosing a hotel with a wheelchair user
Contact the hotel before making a booking to ensure that their wheelchair accessible rooms include everything you and an elderly wheelchair user require. Every wheelchair user's needs are different, so it's important to confirm these things beforehand to avoid any surprises after a long day of travelling! 
Tips for road trips with a wheelchair user
Road trips will typically consist of service station breaks! Make sure to pack a lightweight wheelchair for bathroom breaks along the drive if the elderly user you are travelling with can't walk long distances. If possible, plan those service station breaks beforehand and check that they have wheelchair accessible bathrooms, for example. This should hopefully save time and prevent injuries. 
Enjoy the ride!
First and foremost, a wheelchair is there to make the journey easier and comfortable for both the user and caregiver, keep this in mind when selecting the wheelchair you're going to travel with. Check out real life user Arma Hong who took her Ergo Lite around Europe and Asia.  If you are still unsure about the type of wheelchair you should take when travelling, you can contact your local KARMA wheelchair dealer or contact KARMA for more details about our chairs.