Especially during these times with COVID-19, it's important to not only clean but also maintain your wheelchair. Keeping your wheelchair clean will lessen your chances of spreading germs and maintaining your chair will extend its life. Here is a list of how often you should clean and maintain your chair!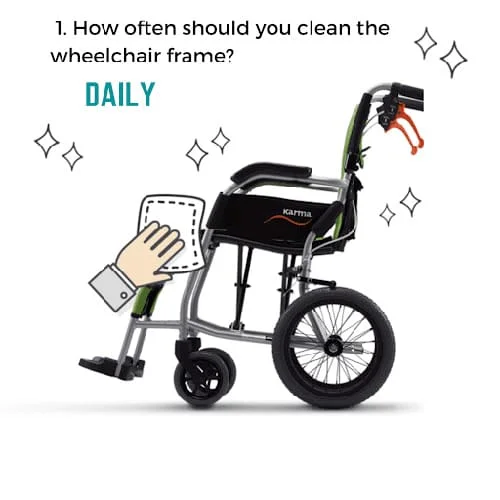 1. How often should you clean the wheelchair

frame? DAILY

The frame and upholstery can be simply wiped with a damp cloth. If you have been out to visit the hospital or supermarket, you can use a disinfectant wipe to aid in the killing of unwanted germs. Do not use strong solvents such as bleach or kitchen cleaners.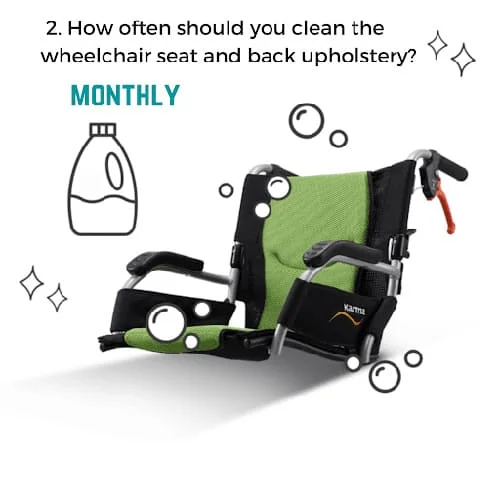 2. How often should you clean the wheelchair seat and back upholstery?

MONTHLY
KARMA wheelchair upholsteries are treated with anti-bacterial and antimicrobial which effectively prevent infections. If the wheelchair fabric is untreated, we recommend that you clean it more frequently, especially if you live in a humid climate. Use a gentle detergent when cleaning, not a washing machine, and dry outdoors in the shade. Avoid direct sunlight that could damage the fabric and ventilation that prevents odours.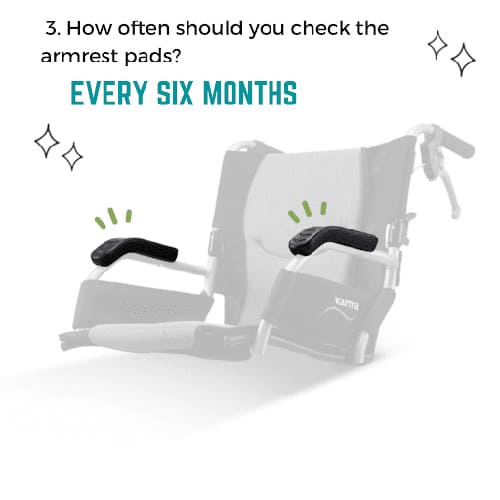 3. How often should you check the armrest pads? EVERY SIX MONTHS
The arm pads on the wheelchair are a high contact area. If they are damaged, they can hide dirt and bacteria can breed. If it is damaged, it should be repaired as soon as possible!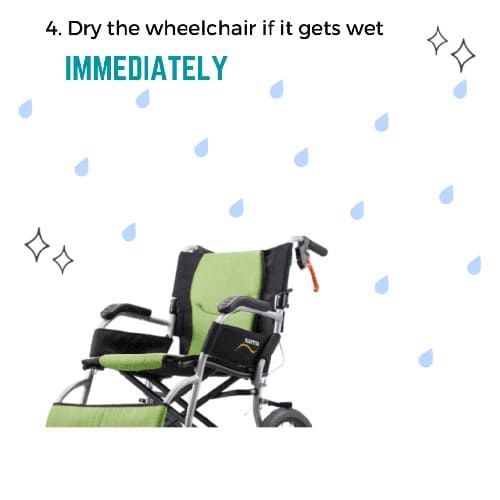 4. Dry the wheelchair if it gets wet:

IMMEDIATELY

 
If you get caught in the rain, we recommend that you wipe the wheelchair dry as soon as possible. This will maintain any treatment the frame has had and keep the chair looking good for a long time. Most KARMA wheelchairs are made with lightweight aluminium so you don't have to worry about it rusting.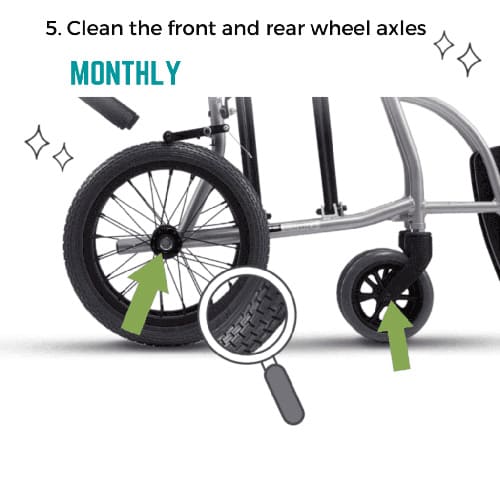 5. Clean the front and rear wheel axles:

MONTHLY
Hair can often get caught in the wheel axles so it is important to clean them regularly to avoid damage. Whilst you are there, you can check how worn the tire treads are and if the pressure is sufficient. 
Regular maintenance is just as important as cleanliness
You can use your phone to set alerts for yourself to remind you when to check, for example, the wheel axles. Carrying out these regular checks will extend the life of your chair and notify you if your chair needs to be sent off for repairs under the manufacturer warranty.
You can check out the full range of KARMA wheelchairs and find out more about our unique power functions on the KARMA website.