Many car manufacturers offer vehicles adapted for wheelchair users. However, like choosing a wheelchair, not every vehicle is appropriate for every user. It's important to understand what the user needs the vehicle for, and also to ensure that that vehicle meets the safety requirements. 
What is a wheelchair accessible cars
A wheelchair accessible car can either be a brand-new vehicle that has been made to the wheelchair user's specification or a second hand car that has been adapted to meet the needs of the wheelchair user. These 2 vehicles can either be adapted for the wheelchair user as a passenger or driver. 
A majority of adapted cars have lifts for the wheelchair, so there is no need to lift the wheelchair into the car manually; this makes entering and exiting the vehicle much easier, as well as giving the wheelchair user independence to use the car when they please. The wheelchair user uses a type of locking system that will anchor their chair to the motor vehicle. This not only prevents the wheelchair from moving when the user is driving, but also minimizes any damages in the event of an accident. These vehicles have specific spaces to anchor the wheelchair and even allow the wheelchair user to drive with specially adapted controls. 
Knowing the brands that offer adapted vehicles and the car's special features will allow the user to choose the vehicle that best suits their needs. (Each country is different, so we suggest you carry out country specific research or contact your local KARMA wheelchair dealer for advice.) 
Vehicles adapted for people who use their wheelchairs daily require a vehicle that meets a series of stringent requirements. For example, the most critical requirements the vehicle must meet are ease and safety when getting in and out of the vehicle.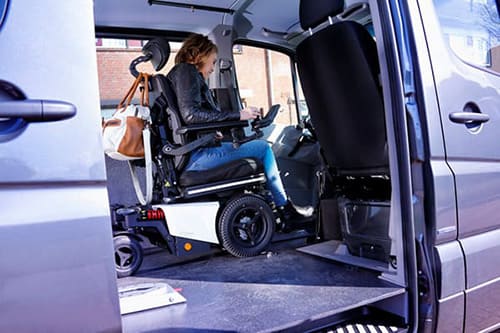 What is the cost of a wheelchair accessible vehicle?
Each manufacturer will offer their own discounts, and often the wheelchair user will qualify for funding for an existing vehicle to be modified or for an adapted vehicle to be purchased. Regarding the discounts of each manufacturer, it is important to book a consultation with a concise list of the user's specific requirements and wheelchair details. 
KARMA make it possible for freedom and independence
KARMA has a wide range of manual and power wheelchairs that have been crash tested and/ or can be modified and safely used in a motor vehicle. For some wheelchair users, their car is essential to their lifestyle and independence. Adapted vehicles offer the opportunity to make these trips the safest way possible. Contact your local KARMA wheelchair dealer to learn about the adaptations that can be made to your wheelchair for a motor vehicle.