A mid-wheel drive wheelchair is an excellent choice for users looking for a chair that is both suited for indoors and outdoors. It's easy and safe to use in order for the user to achieve freedom and independence. 
Excellent indoor performance
Mid-wheel drive power wheelchairs have the tightest turning radius of all the power wheelchairs. The turning axis is at the center of the wheelchair, so the user can make a full 360° turn without any extra maneuvers. Often users feel restricted in their homes with narrow doorways or elevators, however the tight turning radius and narrow base of a mid-wheel drive make it otherwise possible.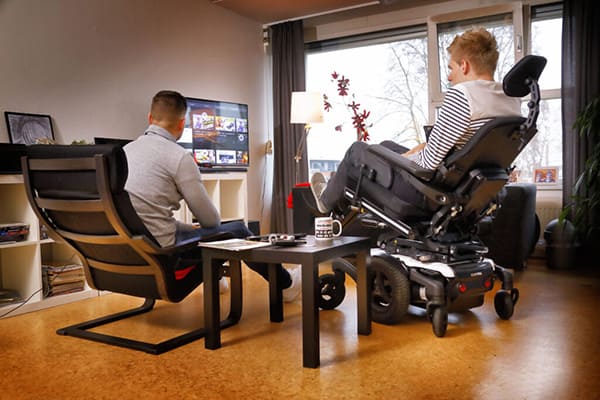 Safe and secure
A mid-wheel drive power wheelchair is composed of 2 central drive wheels with 2 casters in the front and 2 caster wheels at the back. This set up creates a great, stable base and prevents the wheelchair from tipping either forward or backward. The 6 wheels also provide increased stability and traction on a majority of surfaces. The 6 wheels are great at climbing obstacles, traveling inclines, over curbs and generally small bumps. 
First time power wheelchair users
Mid-wheel drive power wheelchairs have been said to be the most intuitive to drive out of the front, rear, and mid-wheel drive power wheelchairs. The user is set directly above the drive wheels, so navigating and turning are more intuitive. Being sat directly above the drive wheels also helps the user feel safe and secure because the center of gravity is in the middle. 
As the mid-wheel drive is more intuitive, it's great for users with perceptual or cognitive impairment because the drive wheel and center of gravity is inline with the user's head. 
Best of both worlds
A lot of people describe a mid-wheel drive wheelchair is the best of both worlds, i.e., front-wheel drive and rear-wheel drive. The mid-wheel drive has stability, power, comfort, and intuitive navigation. KARMA Medical have a few choices of mid-wheel drive power wheelchairs, including the newly launched Morgan M Versus. If you are unsure or want to try a KARMA power wheelchair for yourself, contact your local KARMA Medical wheelchair dealer.
Keep Reading