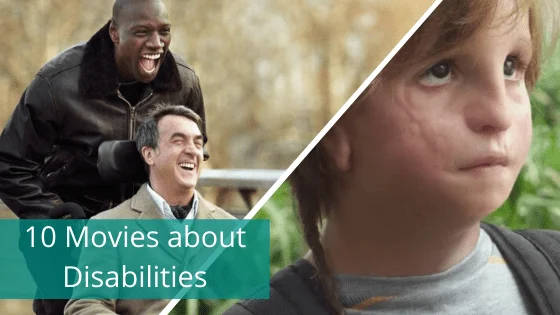 More and more films are being released where the main character has a disability. Within the last decade we have found several films that not only make society aware of the reality of living with a disability but films that have been successful in their own right, being viewed world wide and winning awards.
The Intouchables (2011)
This film is about the relationship between two totally opposite characters who are from very different backgrounds. Driss, a young man from Senegal lives in a working-class neighborhood in Paris, with a criminal record. Driss is cheeky, funny and impulsive. Phillippe, is a wealthy quadriplegic who is older, educated, not very spontaneous, and looking for a personal assistant.
Wonder (2017)
Auggie Pullman is a boy who was born with Treacher Collins Syndrome ( a facial deformity). After never leaving his home for ten years, he has to attend school for the first time, where he will try his best to fit in with the rest of his classmates.
My Left Foot (1989)
This movie is about the inspiring life of Christy Brown ( Daniel Day-Lewis), an Irish painter, poet and writer suffering from cerebral palsy and quadriplegia. Born to a poor family and with the support of his mother, Bridget ( Brenda Fricker), a teacher, he breaks down the barriers that prevent him from integrating into society by using just his left foot to write and paint. 
The Theory of Everything (2014)
During the 60's, Cambridge University student and future physicist Stepehn Hawking fell in love with his partner, Jane Wilde. Despite being diagnosed with a devastating disease, he and Jane break new scientific ground.
Me Before You (2016)
Louise Clark is a happy and crazy girl who goes from one job to another to help support her family. Everything changes when she begins to work as a caregiver for a young millionaire, who was left quadriplegic after an accident. The more time they spend together, the more they establish a bond.
I am Sam (2001)
A woman abandons her daughter the same day she is born, leaving her in the hands of her father, Sam Dawson, who is intellectually disabled. The film follows the difficulties that the father and daughter have to face. The state questions Sam's ability to educate his daughter and so faces a lawsuit that could cause him to lose custody.
Soul Surfer (2011)
Soul Surfer is the inspiring true story of teen surfer, Bethany Hamilton, who lost an arm in a shark attack. She bravely overcomes this obstacle and with determination and unwavering faith, competes to become a champion once again.
The Sea Inside (2004)
Ramón Sampedro has been a quadriplegic since he was 25 years old. After an accident, the former sailor is left bedridden. At this point, life does not seem worth living to him and Ramón wants to die. The idea of assisted suicide divides members of his family as well as society. Ramón's deep and beautiful poetry convinces his friends that euthanasia is his only hope. 
Murderball (2005)
A documentary about competitive sport; Wheelchair Rugby AKA Murderball. Despite their disabilities (mostly spinal cord injuries), the film shows how tough and highly competitive these wheelchair athletes can be. 
Forrest Gump (1994)
Forrest Gump (Tom Hanks) has had an intellectual and physical disability since he was a child. In spite of this, thanks to his tenacity and good heart, he is the protagonist of many crucial events over several decades. While he goes through a multitude of things in his life, the beautiful Jenny (Robin Wright) is always present, his childhood sweetheart, who along with his mother will be the most important person in his life.
Did we miss any of your favourite movies? Follow us on social media and comment on our posts to let us know what you're watching right now!
Keep Reading