Standing for short periods at a time every day has numerous health benefits for wheelchair users. Not only are their physical health benefits, but there are also benefits to the wheelchair user's mental health. If you are considering including standing rehabilitation into your daily life, consider these KARMA standing wheelchairs. 
The benefits of standing wheelchairs
Physically, the benefits of a standing wheelchair include reducing pressure sores, reducing muscle soreness, and slows down osteoporosis. Sitting and laying down all day can decrease the user's bone density that can't be combated by only taking supplements. In order for the body to absorb calcium, the bones need to be stimulated, which is the only way to slow down osteoporosis. Therefore, standing is the only way to increase bone density and maintain healthy bones. 
Not only are there physical benefits, but a standing wheelchair can also have a positive impact on a person's mental health. A standing wheelchair increases self-confidence and the user's sense of independence. Often wheelchair users can feel like they're at a disadvantage because of the height difference from a sitting position, however standing puts the user at eye level with their peers. They can also access bookshelves etc. without the assistance of others, thus accelerating their freedom and independence. 
SME
SME is KARMA's manual wheelchair with power standing function. SME is the ideal for active wheelchair users who want to achieve freedom and independence and also want to take advantage of the health benefits that come along with standing. SME is a lightweight everyday wheelchair that the wheelchair user can use to practice standing at home as well as in social situations. The adjustable features such as the seat depth, back angle, and knee support make SME comfortable for every user.  
SME is safe and stable to use at home or out and about because of the four touchpoints that ensure the user and wheelchair's sturdiness. SME transitions smoothly from a sitting to standing position at a speed that is comfortable for the user.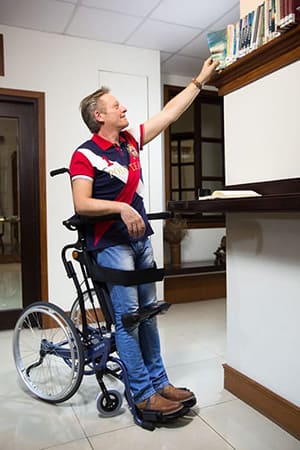 Ergo Stand
Ergo Stand is KARMA's iconic power wheelchair with power standing function. This compact and highly adjustable wheelchair is suitable for both use indoor and outdoors. The narrow wheelbase makes the chair easy to navigate around the home, along with the front-wheel drive wheels that make turning in small spaces simple and easy. 
Not only is the Ergo Stand capable of utilizing the health benefits of standing for the wheelchair user, but the Ergo Stand can also recline 80°-120°. Reclining in the wheelchair can redistribute sitting pressure and allows the user to relax comfortably in the wheelchair.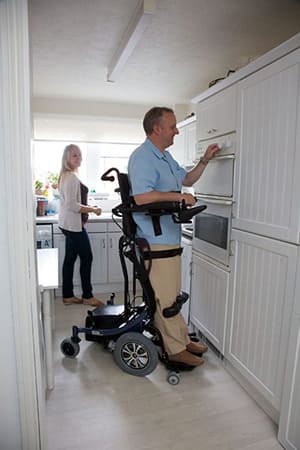 Evo Altus
Unlike SME and Ergo Stand standing wheelchairs, Evo Altus can achieve the standing position from a lying down position. This advanced power wheelchair is equipped with all the biomechanical positioning functions (power tilt, power recline, power elevating seat, and power standing). The biomechanical positioning are ideal for wheelchair users who have been diagnosed with a progressive disease or pediatric users who require additional support. 
Evo Altus can even achieve the standing position four different ways. Sit-to-stand, recline-to-stand, tilt-to-stand, and lay-to-stand. Each of these movements are made smooth and efficiently with the upmost comfort and safety of the user. 
If you are unsure of which standing wheelchair to choose, you can read our previous blog about how to choose a standing wheelchair. It's imperative to the user's safety to consult a doctor and/or therapist before trying and purchasing a standing wheelchair. Although there are numerous health benefits, not everyone is suitable for every type of wheelchair.
Keep Reading