In the previous 2 blogs, we talked about the types of power wheelchair seats that are available, and the range of outdoor and indoor chassis. Whilst these two things are key features of the power wheelchairs, extra features can aid a person's rehabilitation and their goal of being totally independent in a wheelchair. Features such as power recline, tilt, lift, and standing will all be explored today.
Why would a user need a power wheelchair? 
If you recall from the first blog, the purpose for using a power wheelchair can be to improve the users daily life. Another purpose for using a power wheelchair is that it is an aid for rehabilitation, used with the guidance of a therapist. All of the power functions discussed in this blog will not only enhance the day to day tasks of any power wheelchair user but some of these power functions are necessary for user's to maintain both their physical health and mental health.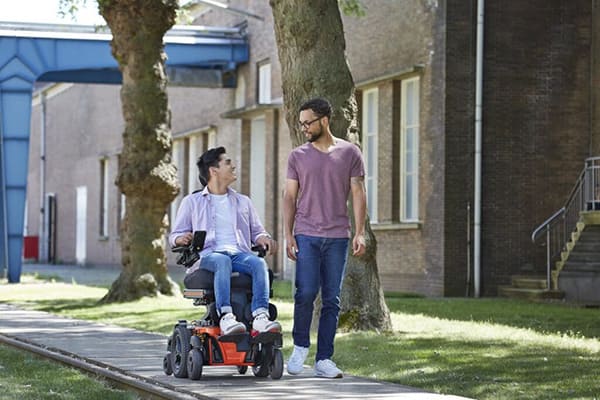 The power lifting function means that users can interact with their peers at eye level. Source: MID Lectus
Manual reclining power wheelchair 
The Captain seat and Sling seat are able to manually recline, however this feature requires the user to have good trunk control. The option to be able to recline is great for users who want to stretch their hip joints or relax in their wheelchair.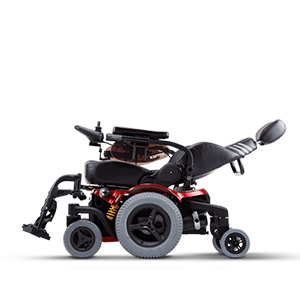 Some Karma wheelchairs are available with the choice of a manual recline seat, the Captain seat. Source: Morgan Captain
Power reclining power wheelchair 
The reclining function allows the user to relieve the siting pressure and spread the weight from the user's buttocks onto the back. This is one method to prevent pressure sores. Being able to rest in the wheelchair is another bonus. If the user wants to lie down, they can independently recline into this position to rest and stretch the abdomen.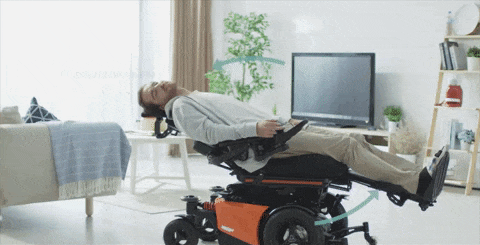 EVO Altus can power recline from (-8°) – 80° so that the user can lay down completely flat. 
Power tilt-in-space electric wheelchair 
The tilting action is similar to that of a rocking chair. The user's hip angle doesn't change but the user is tilted backward. This movement is a great way for those users who can't open up their hip angle, to relieve the pressure often felt sitting in a wheelchair for long stretches of time.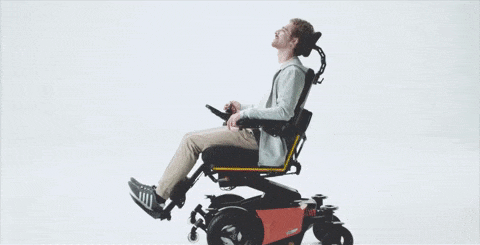 EVO Altus can power tilt from 2° – 47° so that the user can shift their body weight to prevent pressure sores. 
Power standing power wheelchair 
Giving wheelchair users the ability to stand not only benefits their physical health but also their mental health. The independence that these wheelchair users gain can be explored further in "The Benefits of Standing Wheelchair Mobility".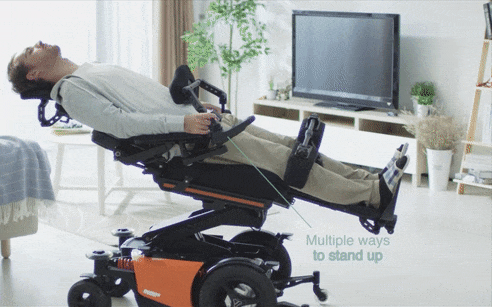 One way to stand up on the EVO Altus is from the laying down position. Always consult a therapist before using a standing wheelchair as this function is not suitable for all users. 
Power lifting power wheelchair
The power lift function can make small everyday activities easier. Whether it's raising the seat a little higher to meet the height of a table or communicating with others at the same eye level, the powerlifting function is a great feature not just for everyday life but also for social functions.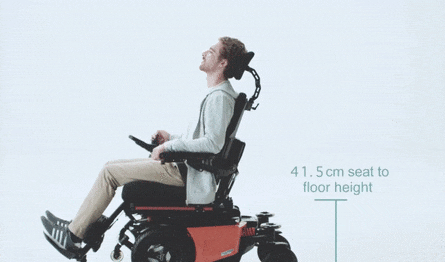 Having the option to match the user's eye level will make social interactions feel more equal. Source: KARMA Medical YouTube | EVO Altus – Product Video
Summary
After learning about all of the different power functions, you can understand how having even just one or two of these functions will improve the life of a wheelchair user. Not only are there physical health benefits, but also mental health. Want to know more about power wheelchairs?  Learn about the different controls available for KARMA power wheelchairs, and how there is something for everyone.
Keep Reading