Why choose Flexx Junior?
At KARMA, we believe that mobility devices should be introduced to a child as young as possible because we know how important the right wheelchair is for their full development. As well as choosing a wheelchair that grows with the child, it's important to choose a wheelchair that can be adjusted and is compatible with various accessories should the user need it. 
[Flexx Junior is the pediatric wheelchair that is part of the Flexx wheelchair series. You can see the full range of adjustable Flexx wheelchairs like Flexx HD and Flexx Tall here.]
Lightweight 
Without the rear wheels and footrests, the wheelchair weighs only 8.6KG making it ideal for storing in the trunk of a car for family trips!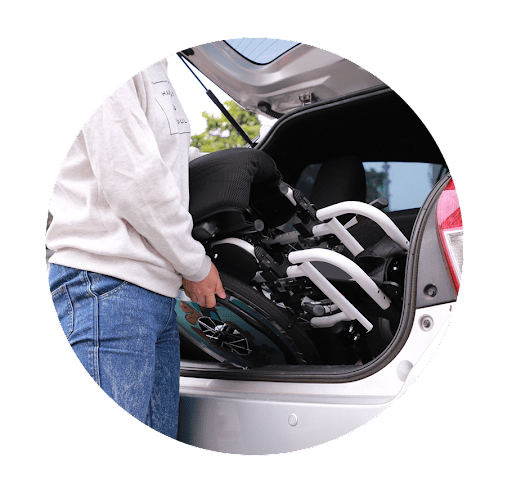 Crash Tested
The Flexx Junior is approved for transportation in accordance with ISO 7176-19. This means it is suitable to be used as a seat in a motor vehicle for transportation.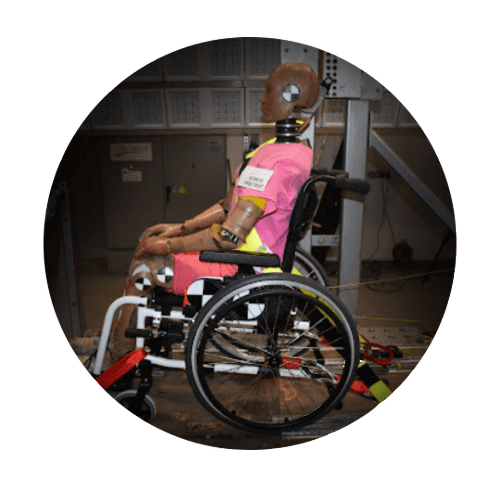 Extensive Range of Configuration


Flexx Junior has a wide range of adjustments that are important as the child grows, they can be changed to ensure they are seated properly and can maintain maximum function. 
Self-propelled rear wheels vs Attendant-propelled
Self-Propelled
Attendant-Propelled
If the user is more dependent on a caregiver, then they can choose the wheelchair with the smaller rear wheels. This is also safer for some users as they won't get their hands caught in the larger, self propelled wheels. The smaller wheels make the wheelchair more compact and lighter and therefore convenient to store in the trunk of a car. If the user can only do side transfers from the wheelchair, then they should choose the smaller wheels as there is a clearer path for transfers. With the larger wheels, the user will need to first move forward and then make a side transfer.
Flip back vs. Detachable armrest
Flip-Back Armrest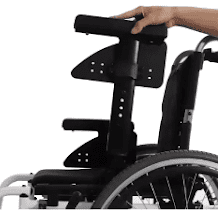 Detachable Armrest
Both armrests are height adjustable. The detachable armrests can make wheelchair transfers easier as it creates more space and it makes the wheelchair lighter when you have to lift the chair however they come out quite easily. When you are lifting a chair with detachable armrests, you will need to find another way to lift the chair. The flip-back armrests are not detachable so you will never lose them. 
Attendant Push Handles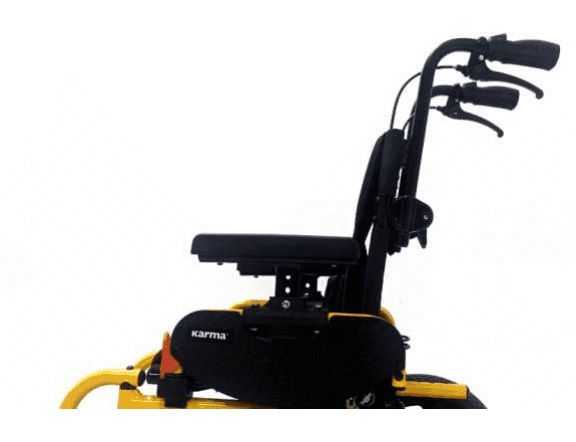 Adjustable Push Handle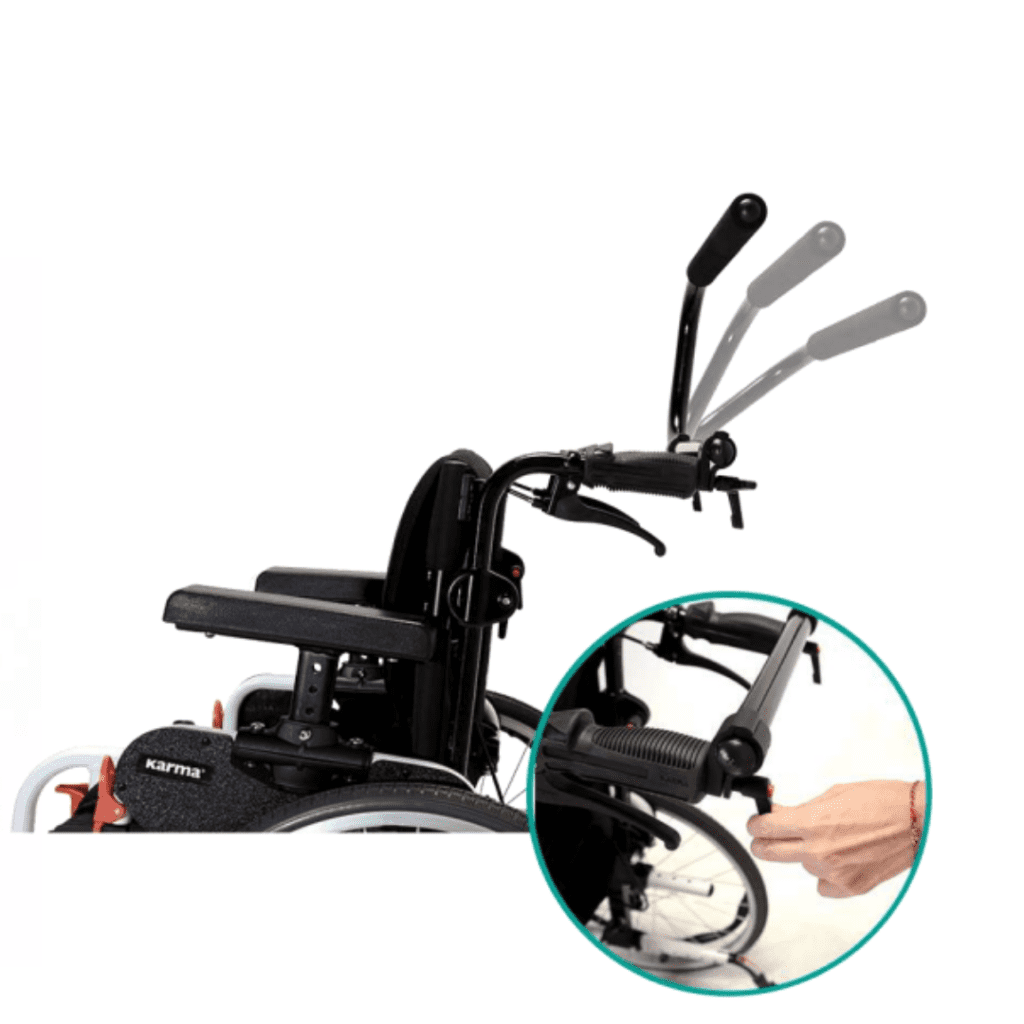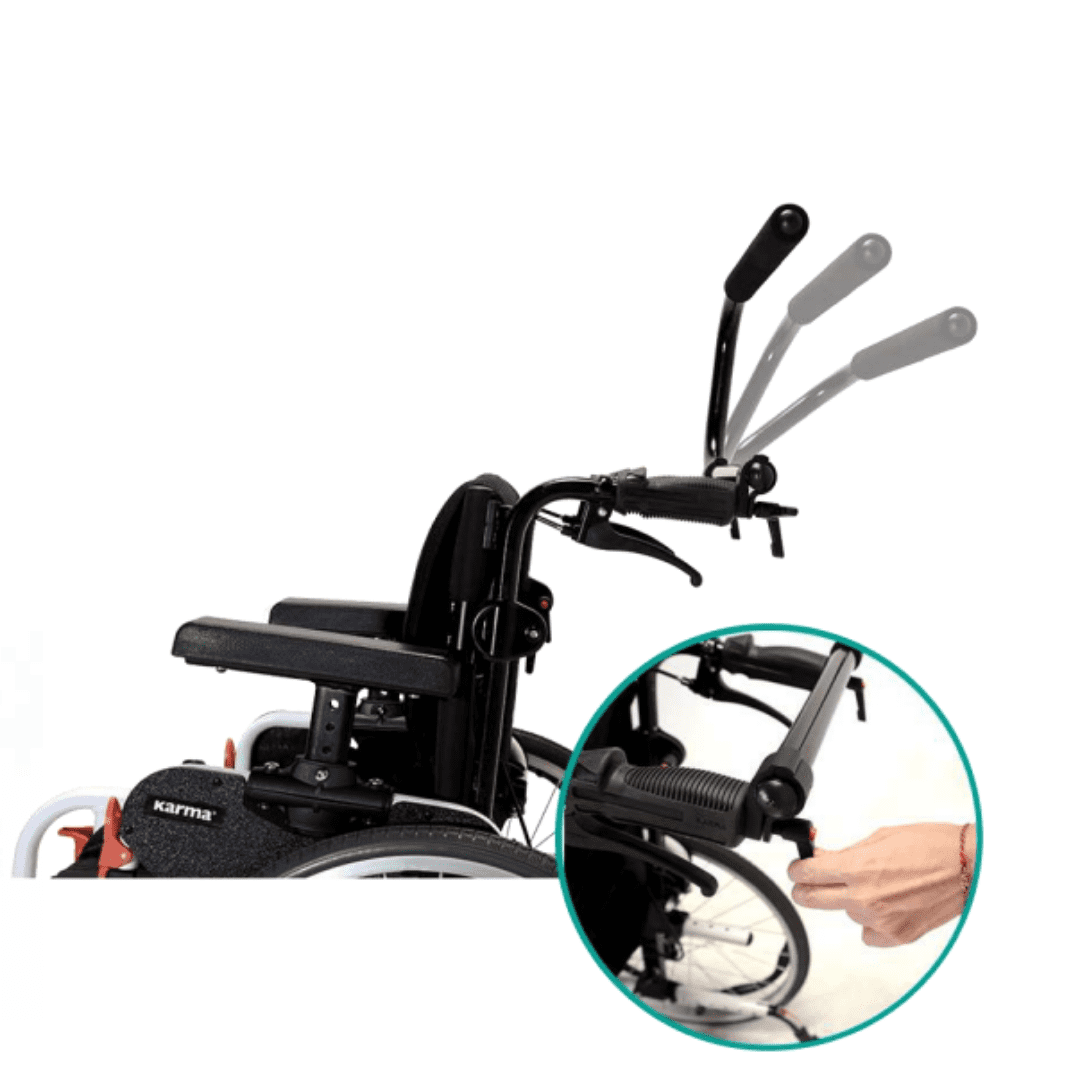 Pust Handle Extension
For attendant wheel wheelchairs, the height adjustable push handle makes it easier for a caregiver to push without having to bend over. Push handle extensions are also available to bring the push handles even higher for the caregiver.
Other accessories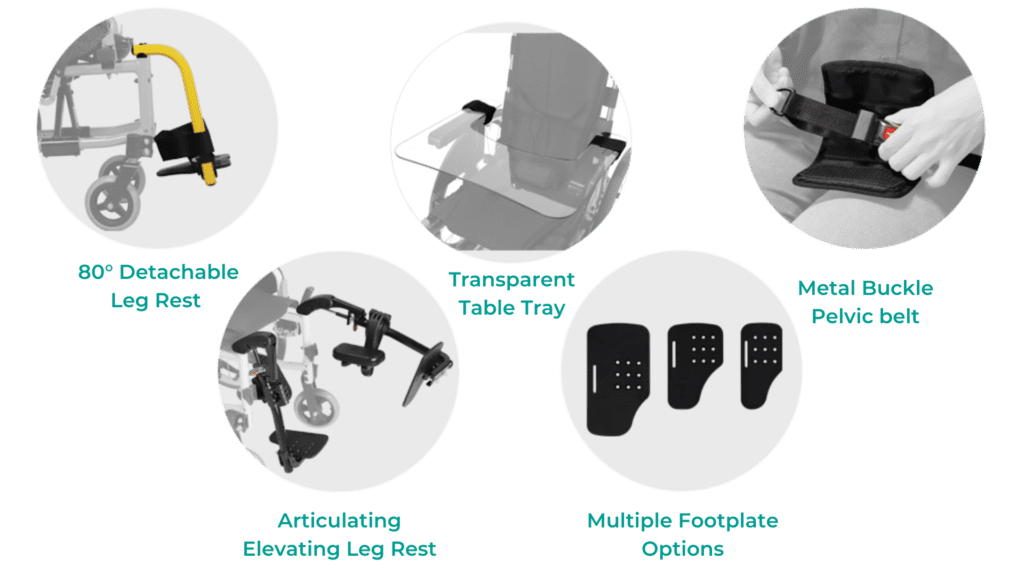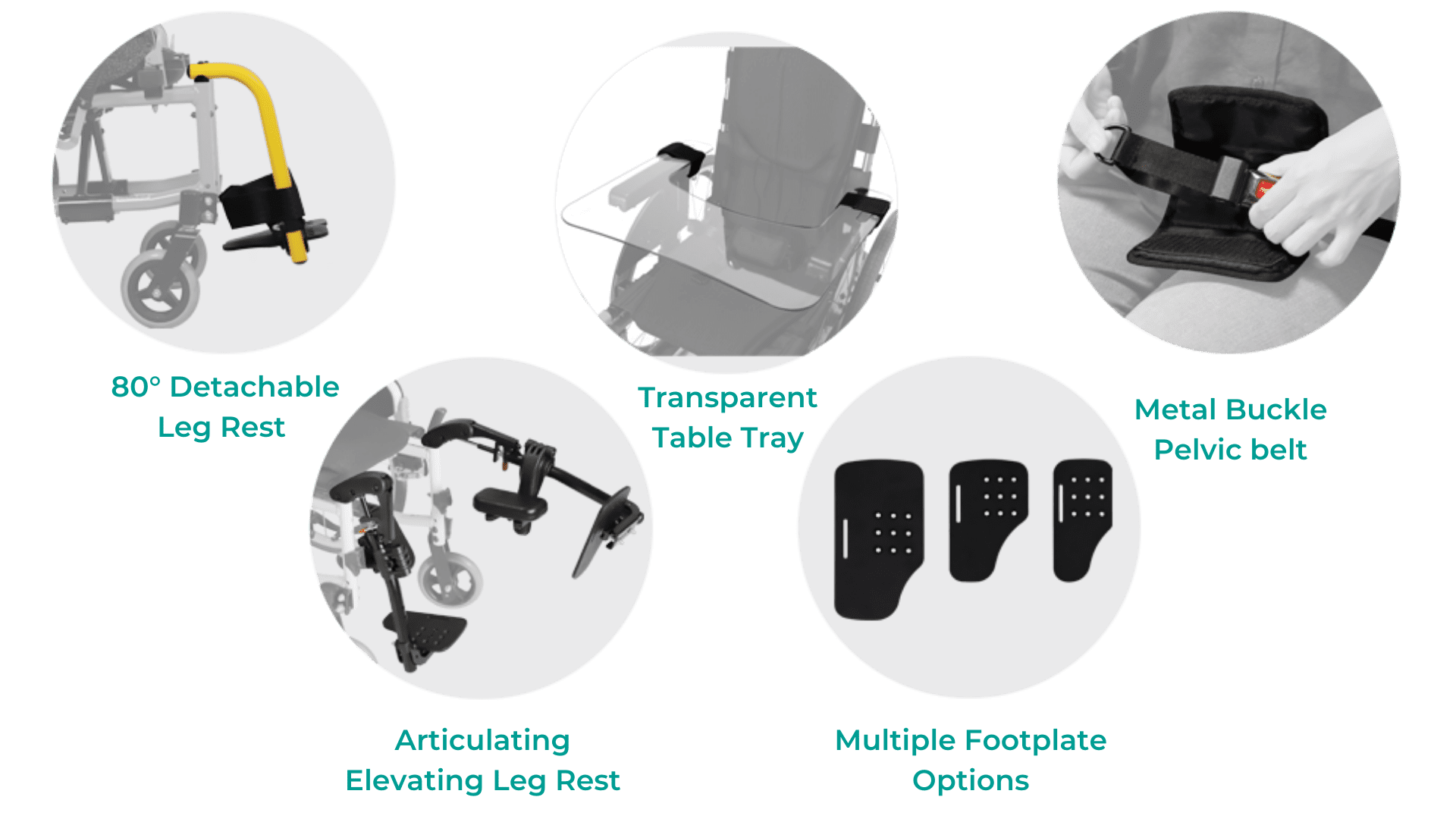 Compared with the standard 90 ° legrests, the 80° legrests allow taller children to sit more comfortably. The cone style design makes it easy to detach the legrests tool-free, which makes transportation a lot easier.
It's important to use a transparent table because the user needs to be able to see what is in front of them or on the ground so they can safely navigate the wheelchair whilst also having a convenient surface for activities and extra support. 
Maintains the pelvis in the correct seating position to prevent sliding and seating related injuries. 
For users who want extra comfort whilst reclining and resting in the wheelchair. The articulating elevating legrest can extend with the leg so that there is no pressure on the knees. 
It's unnecessary to provide a child with smaller feet with huge footplates, so Flexx Junior has the option of multiple footplates. This will also make navigating the wheelchair easier when the footplate isn't bigger than your feet. 


Choose a wheelchair that meets the need of your child
No matter what mobility device a child uses, whether manual or power, it should suit their needs whether as it comes out of the box or whether there is a need for other accessories. Being able to add a range of specifically designed accessories is part of what makes KARMA wheelchairs unique. 
You can check out the full range of KARMA wheelchairs and find out more about our unique power functions on the KARMA website.
Keep Reading