If the elderly cannot sit-up straight to transfer into the wheelchair, the caregiver can use a transfer mat to help.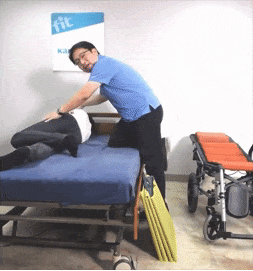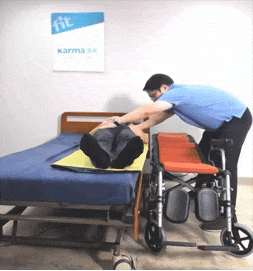 Use a transfer mat to transfer the elderly who can't sit up, into an already reclined wheelchair. Source:  Karma Medical Taiwan; Karma Academy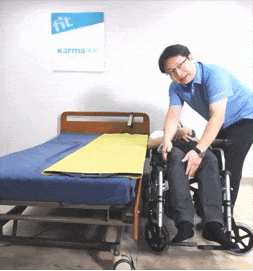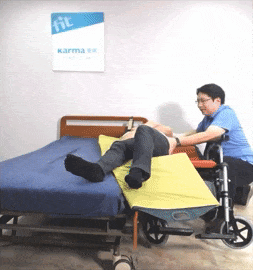 When transferring the elderly from the reclined wheelchair to the bed, make sure the bed and the wheelchair are the same height. Source:  Karma Medical Taiwan; Karma Academy
Transferring the elderly back into the bed from a reclined wheelchair is not unlike transferring them from the bed.
Summary
With the advice of a physical therapist or doctor, work with elderly wheelchair users to practice standing, walking, and sitting up with these simple steps.
Our goal at Karma is for people of all ages and abilities to lead the best life possible, and sometimes simply being able to sit up and socialise with friends and family is it. 
Still not sure what method to use to transfer the elderly into a wheelchair? The following flow chart should give you an idea of what assistive devices are needed to transfer each level of elderly wheelchair users.