Here are the most frequently asked questions from families of wheelchair users or users themselves: 
Aren't all wheelchairs the same? I can't see a difference…

There are so many brands and models! Which one is the most suitable for me?

What?! There are also different sizes? If I buy the bigger one it will be more comfortable and cost-effective, right? 
Most people will ask these questions when they haven't been properly assessed by a therapist. During the examination and evaluation process carried out by a professional therapist, they will recommend what assistance and aids a person needs, not just 'what wheelchair to buy'. Professionals understand the patient's problems and what kind of challenges they might encounter. On a case by case basis, they will make a professional decision.
To give an idea of what a therapist might base their assessment on, here is an example of the evaluation form of the patients abilities that they consider. After the assessment, you can communicate with a wheelchair company what it is that you need. 
The differing levels of motor function in patients can be divided into five levels. The idea is similar to that being used by GMFCS, originally developed to describe the functions of cerebral palsy patients, it is actually very useful here. Being able to differentiate these categories not only makes it easier for the therapist and patient to communicate but it helps to roughly estimate what assistive devices are needed at each rehabilitation stage. Depending on what category the user is in, the right wheelchair might be all they need. 
Level 1: They can run and jump on flat ground
At this stage, they probably don't need a wheelchair yet. However, if the user feels like it would make their lives easier, then maybe they can consider a simple wheelchair.
Level 2: They can walk on flat ground easily, but walking on uneven ground is difficult
At this stage, they may need to take precautions to prevent nasty falls. They may be using crutches or an umbrella to stabilize themselves when walking. To make it easier and safer, you could consider using a wheelchair short-term. Sometimes a wheelchair can be used to help the caregiver of disabled children or the elderly when they go outside, as it is easier to look after them. 
Level 3: They can walk by themselves but need the support of stable objects or the support of others
Whether it's because of an injury, surgery, or physical discomfort, sometimes a patient is unable to stand for a long time before needing to hold on to something. Although they are still able to walk, we recommend for safety's sake, to start using a wheelchair. If they're only using it for a short period of time (2-3 months) during the rehabilitation process, they could rent or buy a second-hand wheelchair. 
There are many basic wheelchair models on the market, with the most popular ones adapting a lightweight design. The lighter wheelchairs make it easier for caregivers to transport and store the device in small spaces. But remember that in addition to being lightweight, the wheelchair must be stable to be safe. 
Level 4: They cannot walk at all, but they can maintain their posture in a chair with armrests
At this stage, they can no longer get in and out of the wheelchair by standing up. There will be situations in the future that requires getting in and out of the wheelchair. For example, getting in and out of bed, going to the bathroom, getting in and out of the driver's seat (yes, it is still possible to drive).
Detachable arm and footrests can make getting in and out of a wheelchair easier. Armrests and footrests can be lifted, rotated, or even removed so that the user can enter and exit the wheelchair from the side (take the gif below, for example).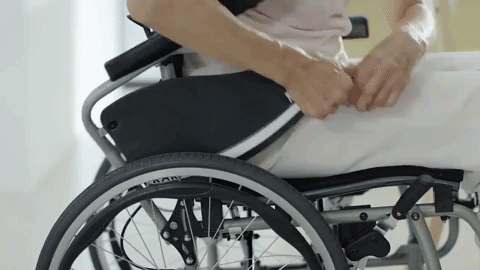 S-Ergo 125 has flip-back armrests to make transferring in and out of the wheelchair easy. Source: Karma Medical YouTube – S-Ergo 125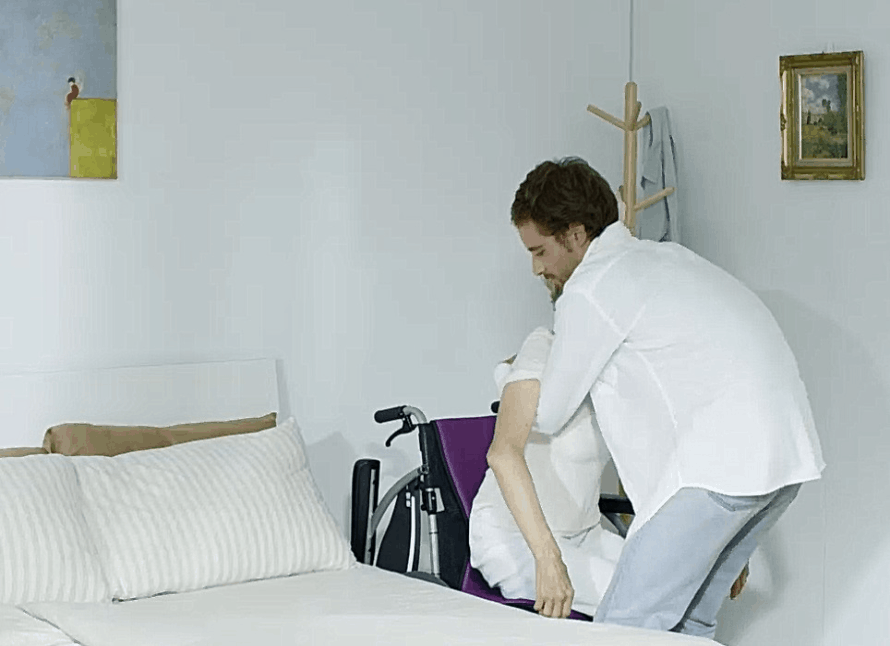 Source: Karma Medical YouTube: How to use Detachable Swing-away Footrest
At this stage, for a better quality of life and mobility, disabled people could also consider using a lightweight electric wheelchair. 
As a result of the need of fitting many different body types, the highly adjustable wheelchair is being developed. This wheelchair has more choices in seat width and depth as well as seat height, back height, back angle, armrest height, and rear wheel centre alignment all being adjustable. A wheelchair can be equipped with these adjustable features or later altered according to the user's recovery status.
Level 5: When they are sitting in a chair with armrests, they cannot maintain a sitting posture
If friends and family reach this level, they need a positioning wheelchair. 
The back height of a regular wheelchair roughly reaches shoulder height but the positioning wheelchair will extend to reach the top of the head with a headrest that will support the weight of the upper body. There are two types of positioning wheelchair; one that is Reclining and the other that will 'Tilt-in-Space'. 
In the past, the choice of which positioning wheelchair was limited to one of these features or the other however now there are reasonably priced products on the market that function as 2-in-1. Before we discuss these two options, the following picture should give you an idea of the different movements each wheelchair offers.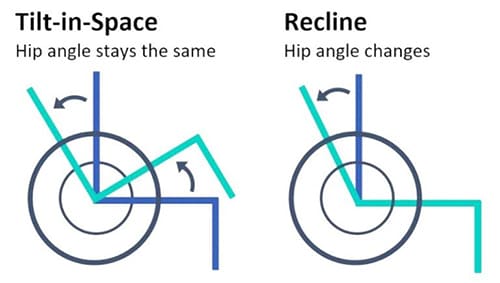 Tilt-in-Space: The hip angle remains unchanged / Recline: The hip angle changes.
With these basic concepts in mind, in the next blog we will continue to discuss the different reclining and tilting wheelchairs. Follow us on Social Media to see our latest events and user stories: